Live Chat – The benefits of using a chat software to reach customers in 2018
Online businesses are turning to Live Chat software more and more these days, but what are the benefits and how easy and expensive are they to install?
Live chat software provides businesses with an easy and fast way to reach their potential customers, boost sales, or provide online support. If you are unfamiliar with the term, they are usually presented as a floating bubble or comments box on a web page (normally at the bottom), which allows you to contact the website company in real-time with questions about sales or a service (see our example in the screenshot below on the bottom right).
So why use live chat?
With mobile phone technology increasingly providing us with an easy computer free way to shop online, people are able to shop around and make purchases easily regardless of their location.
This means the pressure is on for businesses to be able to get back to  potential clients questions as quickly as possible to help to close the sale. In fact research has shown the average time for a response to an enquiry on social media is 10 hours, and emails have an average reply time of 12 hours! These delays can lose you sales, especially if you are in a competitive market where your competition has already taken the step to implement this software.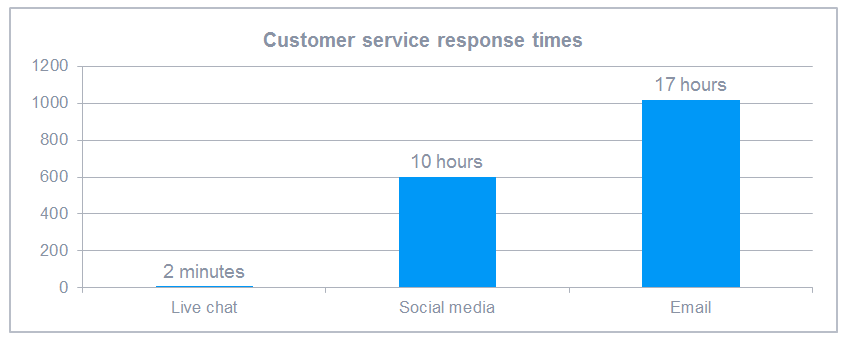 1. Increase sales and conversions
Of course the number one benefit of this software is the increase in sales. Research carried out by The American Marketing Association found that B2B companies who used live chat saw, on average, a 20% increase in conversions!
While browsing your website, prospects and customers will have questions about your product or service. With live chat, you can answer them immediately – and while the buyer is still on your website.
This is what makes live chat so powerful. It gives you the chance to hold your buyers' by the hand, help them overcome objections and reach a buying decision. It's like having a sales assistant on standby, live on your website.
Furthermore, a report by eMarketer found 35% more people made a purchase online after using live chat.
2. Reduce support costs
We are all aware that providing customer services is an important but costly part of business. Especially in larger businesses.
Traditionally in call centres, a customer service agent will handle both phone and email requests, replying to one-at-a-time.
The IT sector embraced a form of "live chat" function as the early 2000's, as they began to use knowledge bases to deal with support tickets internally in companies such as DSG Retail. This allowed customer service agents to respond to customers more easily and cut down on calls to their service centres. As well as a knowledge base accessible by internal users, they could respond to requests via a chat service, service similar to MSN Messenger, for those who remember!
Research by Telus International, customer service agents can engage in as many as six simultaneous chats, depending on the complexity of the issues involved.
Advances in technology now allow us to use this technology at rates affordable to even the smallest of businesses now, with some basic packages such as TIDIO providing a FREE service for smaller businesses which can easily be installed on WordPress sites for example.
One company, WP Engine, installed live chat and within months were able to solve more than 90% of all questions and issues immediately.
3. Build trust with buyers'
When you walk into a physical store, shop assistants have the chance to build a rapport with customers during the sales process, helping them  to establish trust and make the sale.
With live chat, you have access to a virtual sales assistant who can provide this for your customers, and better still they can be anywhere!
4. Gain a competitive advantage
Offering live chat to your customers presents you with a great opportunity to gain a competitive advantage over your rivals.
Its not hard with a quick search online to see just how many companies are not using live chat yet. So NOW is the time to get ahead of your competition.
5. Increase average order value
Live chat doesn't just help you increase sales – it also helps you increase the value of a sale. Being able to chat with the buyer and understand their needs, you can recommend similar products and services by up-selling and cross-selling to increase the average order value.
For example, if a buyer is looking to buy kitten food, a chat agent can respond by recommending a other kitten care products which meet their needs.
6. Satisfy your customers
With the availability of live chat, your customers can easily get in touch with you about your products or services while they are out and about or doing other things. They know they will get a response and you can always follow up with a call after if needed.
7. Keep in contact with visitors
With customers permission, you can also use this contact as a way of adding people to your mailing list. Why not add a link to opt-in to your newsletter as a sign off? (You will need to be aware of the new regulations coming into force on the 25th May 2018, click here to view information on the General Data Protection Act).
8. Improve website experience
With live chat, your customers no longer have to stop what they're doing and pick up the phone or send an email when they have a question. They an get in touch anytime you are online.
Forrester Research found that 57% of customers abandon their purchase if they can't get their question answered quickly.
The same study found that 44% of online consumers rate having their questions answered by a live person while in the middle of a purchase as one of the most important features a website can offer.
9. Understand your customer needs better
It is key to the sales process to be able to understand your buyers' needs and provide the right solution for them. Live chat software allows you to close sales there, and also gives you access to their mindset by gathering what is known as "Voice of Customer Data".
Voice of Customer (VOC) data is a market research tool that can help you see your business from a customer's perspective. By collecting VOC data you can understand their thoughts, opinions and behaviour, which can then be used to develop future products, as well as for marketing campaigns.
Live chat allows you to review chat transcripts which you can check to see information such as key words, phrases and questions that your  buyer's use.
Conclusion
Chat software is not to be ignored!  Whether you choose to embrace it now or in the future, it is such a useful tool to bring your business up to date and provide exceptional support.
Contact us for further information on how live chat can help your business grow.